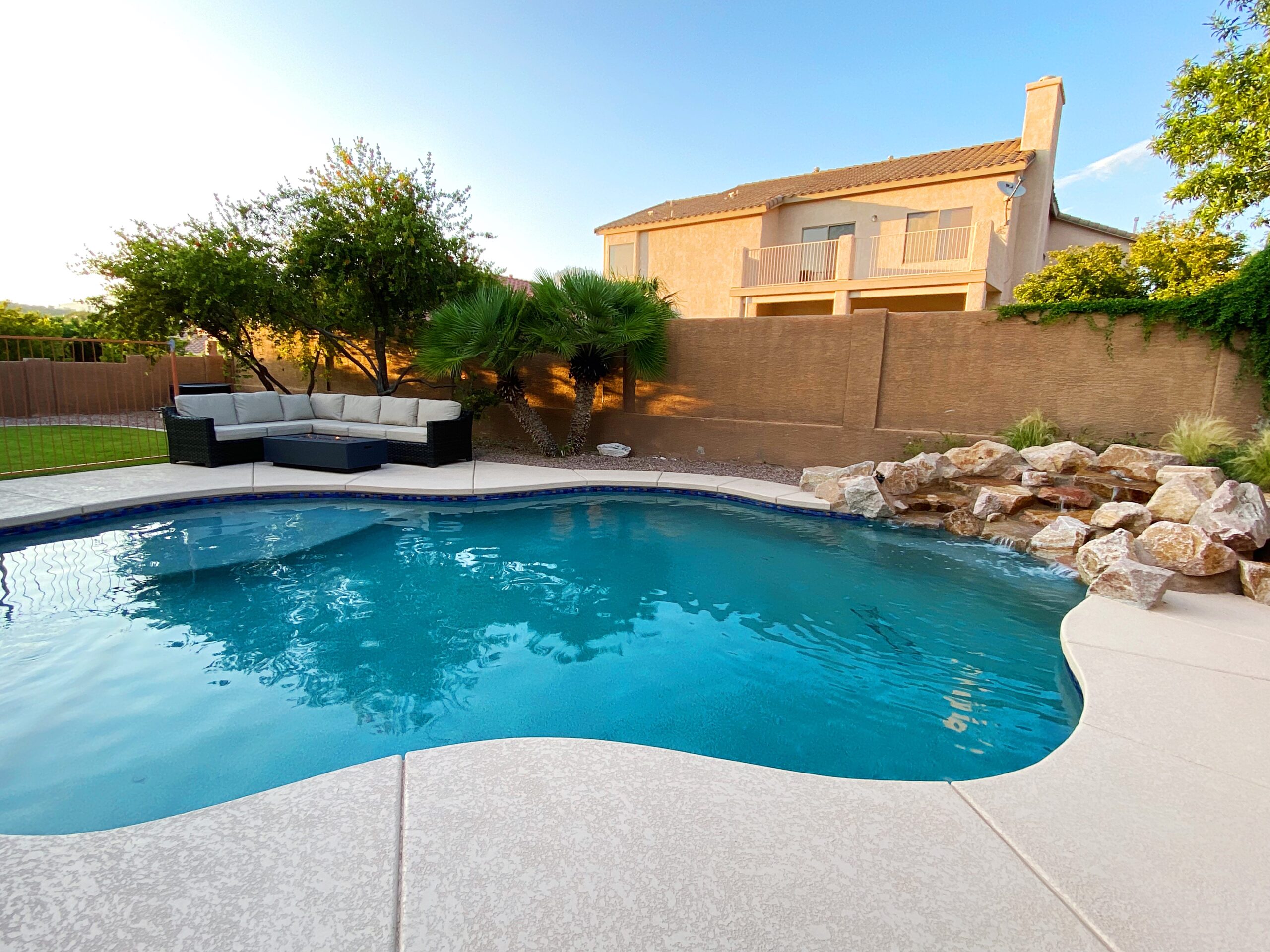 [ad_1]

Sharing the details on our pool! It's been a long process – we're still not quite finished with everything – but so so worth it. I'm excited to share more about the pool building process and the finished product. I've been waiting for a good time to share this post, especially with everything going on in the world, but feel like there will never really be a perfect time. Many of you have let me know that you're considering building a pool, so I decided to go ahead and post the details. Let's pour some virtual margaritas and hang out on the tanning ledge together. It's a nice escape, I tell ya. 
Hi friends! I hope you're having a great morning and thank you so much for all of the excitement about Movement + Macros. It will be ongoing, and if you're looking for more of a group atmosphere and workout plans, beta tester spots for Fit Team will open next week. Stay tuned for all of that!
I'm excited to share some pics today of our pool! It's been a work in progress but we love it so far and have been enjoying it for over a month now. Our yard was a complete disaster for many months, but the second the girls were able to dive in, it was all worth it.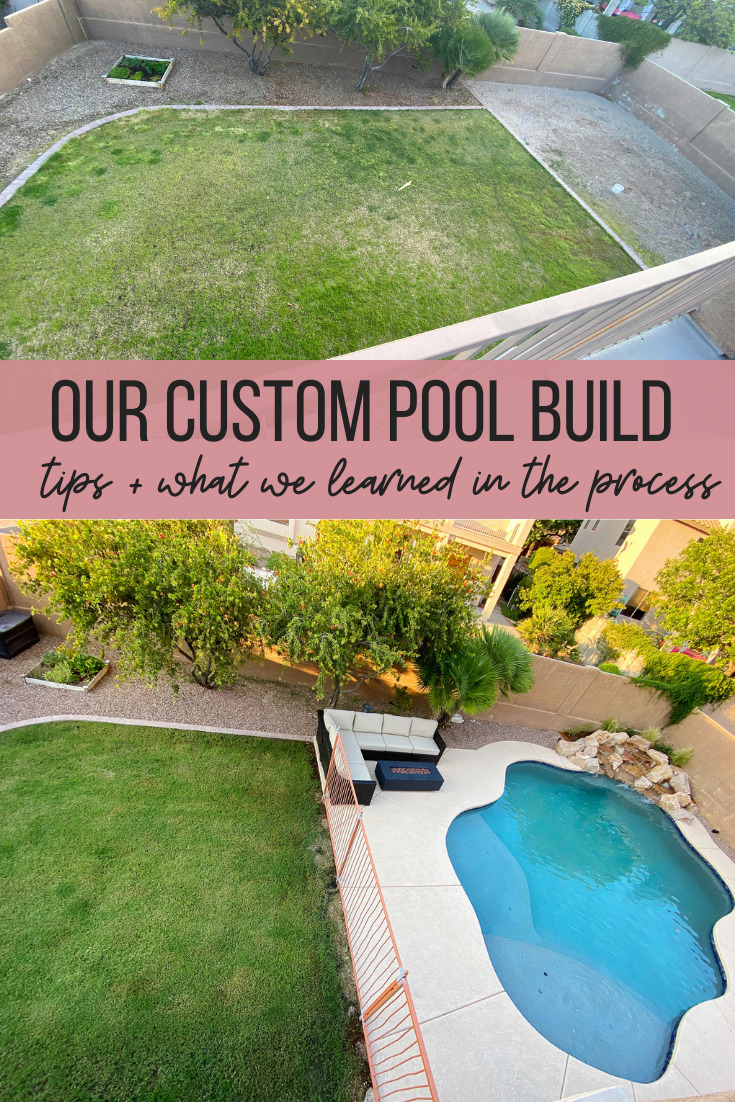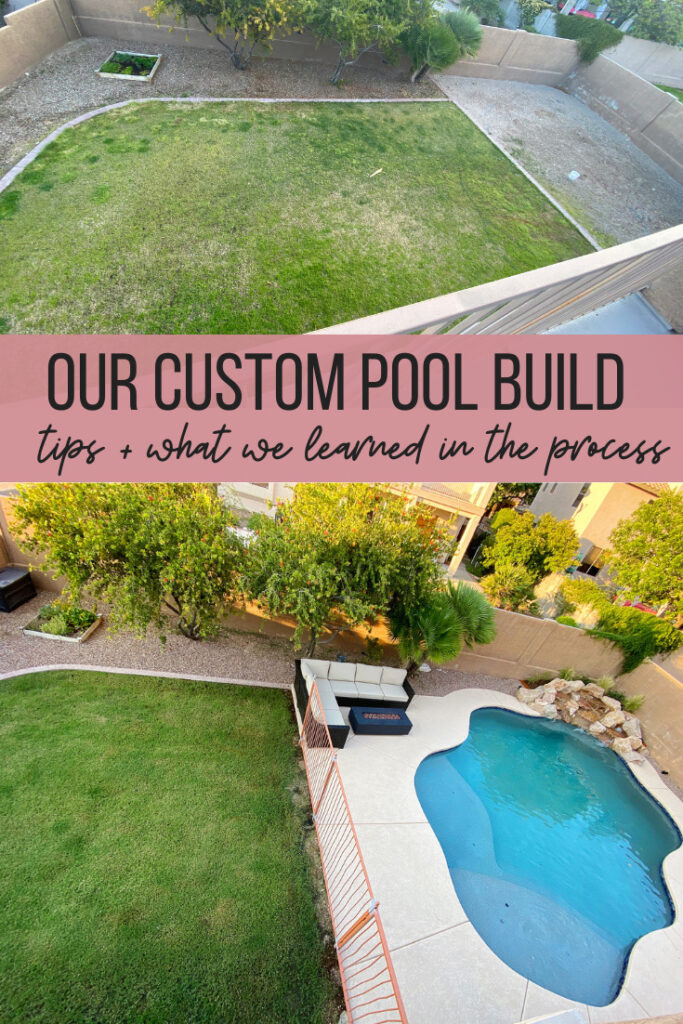 (the gate in between the pool and yard is almost finished. My stepdad is making it and and it looks incredible so far!!)
Before: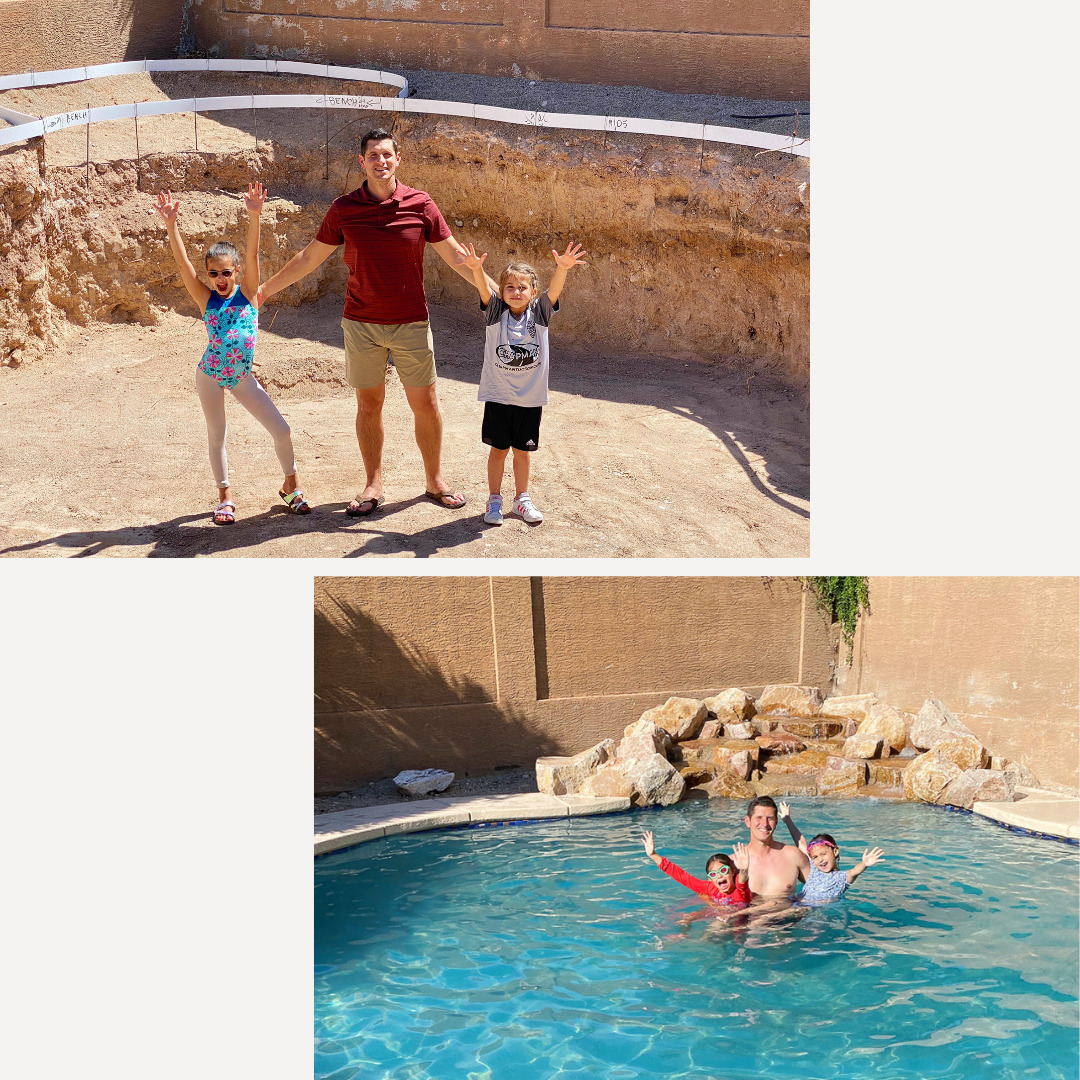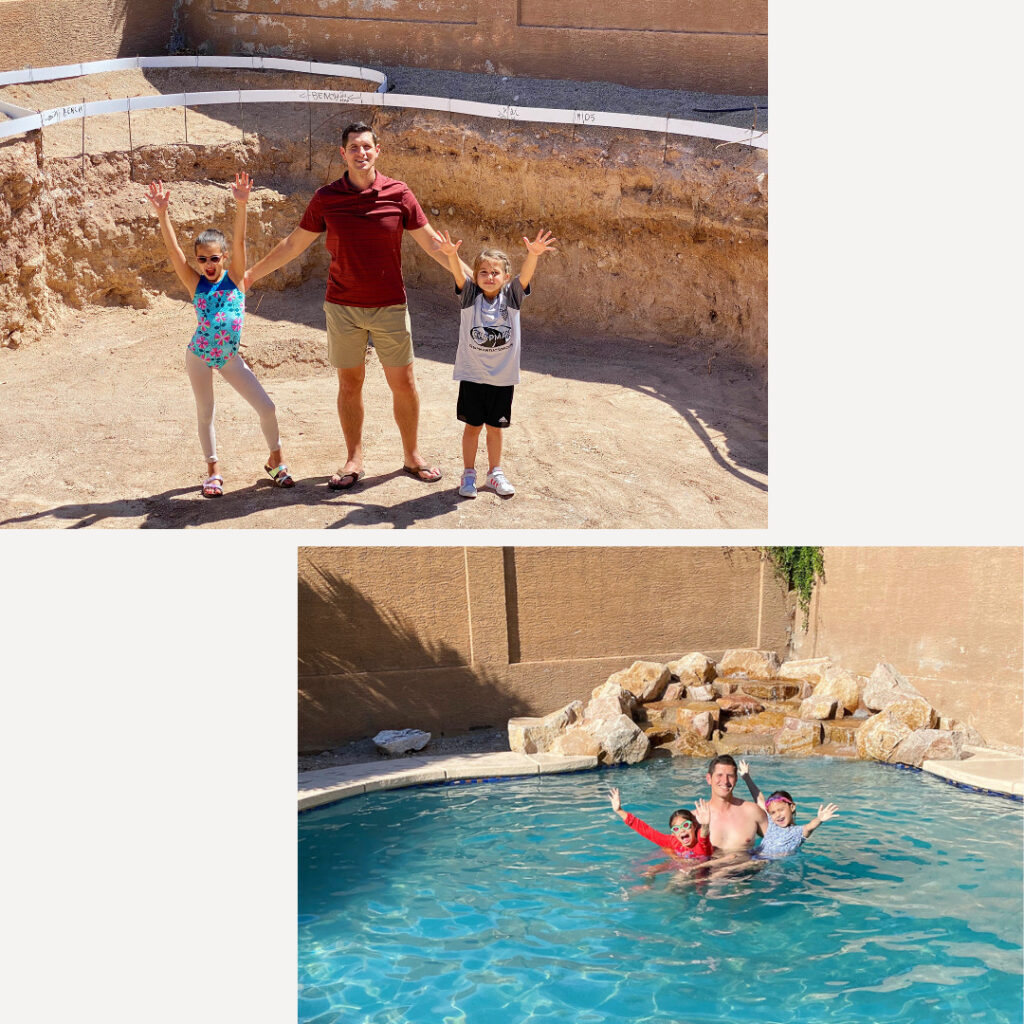 After:
We always knew we wanted to put a pool in the yard. When we first moved back to Tucson, the Pilot immediately deployed for 7 months, and then when he came back, it was straight into airlines. The first year of airlines was bananas, and during that time, we explored different pool companies and options. Our top two gave us designs and quotes, and we decided to stay on the waiting list since at that point, the finished product wouldn't be ready until fall. It was February 2020… and then COVID hit. This was an additional factor to convince us that we finally needed to go for it.
We typically get summer memberships at a local country club and the pool was our saving grace when everything else was closed down. My friend Kathryn would meet us at the pool, we'd float around and chat while our kiddos played and danced to the music. It was a major sanity saver for us all. At the end of the summer, we finalized the company we wanted to use for our pool (Pools by Design!) and signed all of the paperwork this February (2021). We broke ground in March and the pool was finished and filling up with water the last week of July.
The day that we could all jump in the pool was an exciting day, indeed. The girls have had such a blast swimming and we've already had lots of friends over to enjoy it with us. 🙂
A timelapse video of pool construction:
Our v. professional filming setup: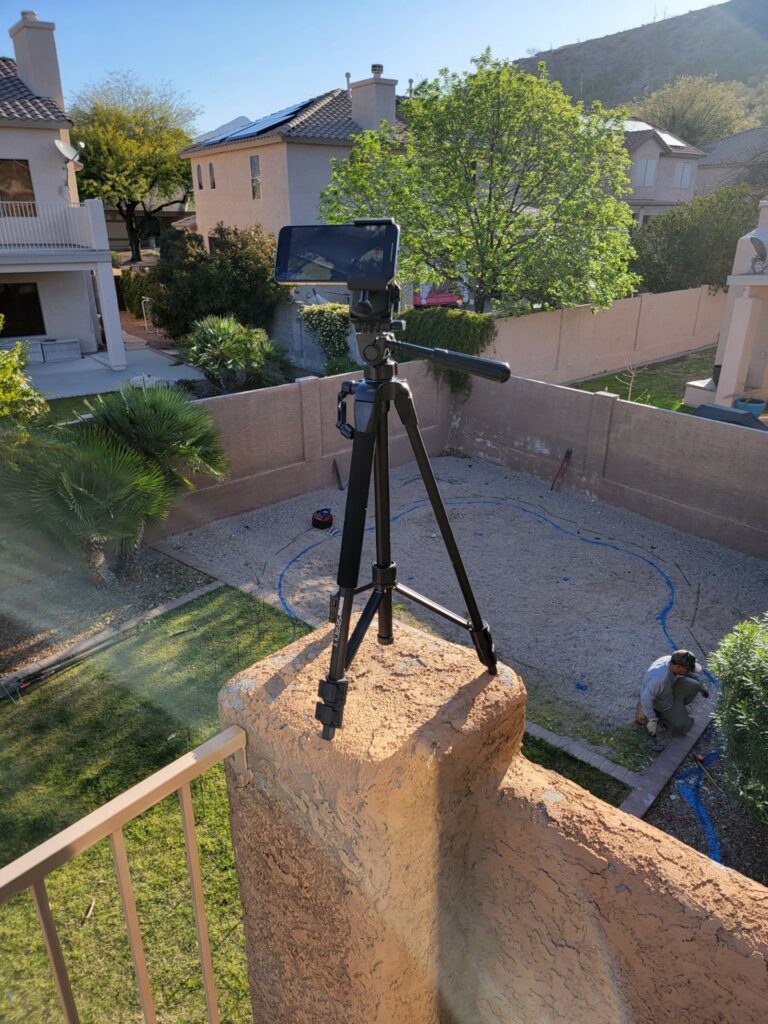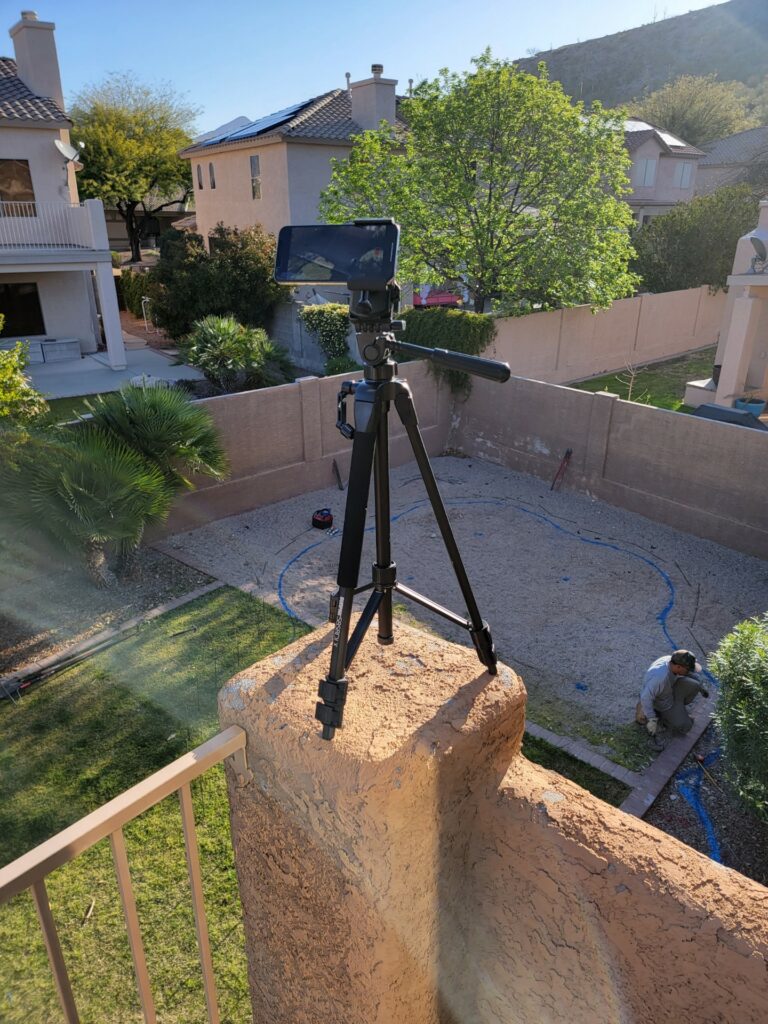 Our experience with Pools by Design:
We ended up picking Pools by Design because they're highly recommended in the pool industry and we loved their design the most. The price was higher than we anticipated but we're SO happy with the quality and the design. They truly exceeded our expectations. All of the contractors that came out for the various steps were so skilled and talented at what they do. They have excellent reviews for a reason, and our designer Nick stopped by often to check things out and was available for questions along the way.
Some of our favorite aspects of the pool:
The water feature! We can turn it on using our phone and there is a bench underneath, so you can chill under the waterfall. I also loved that we had room behind it to add some plants. It sounds so peaceful and beautiful, especially in the morning with a cup of coffee.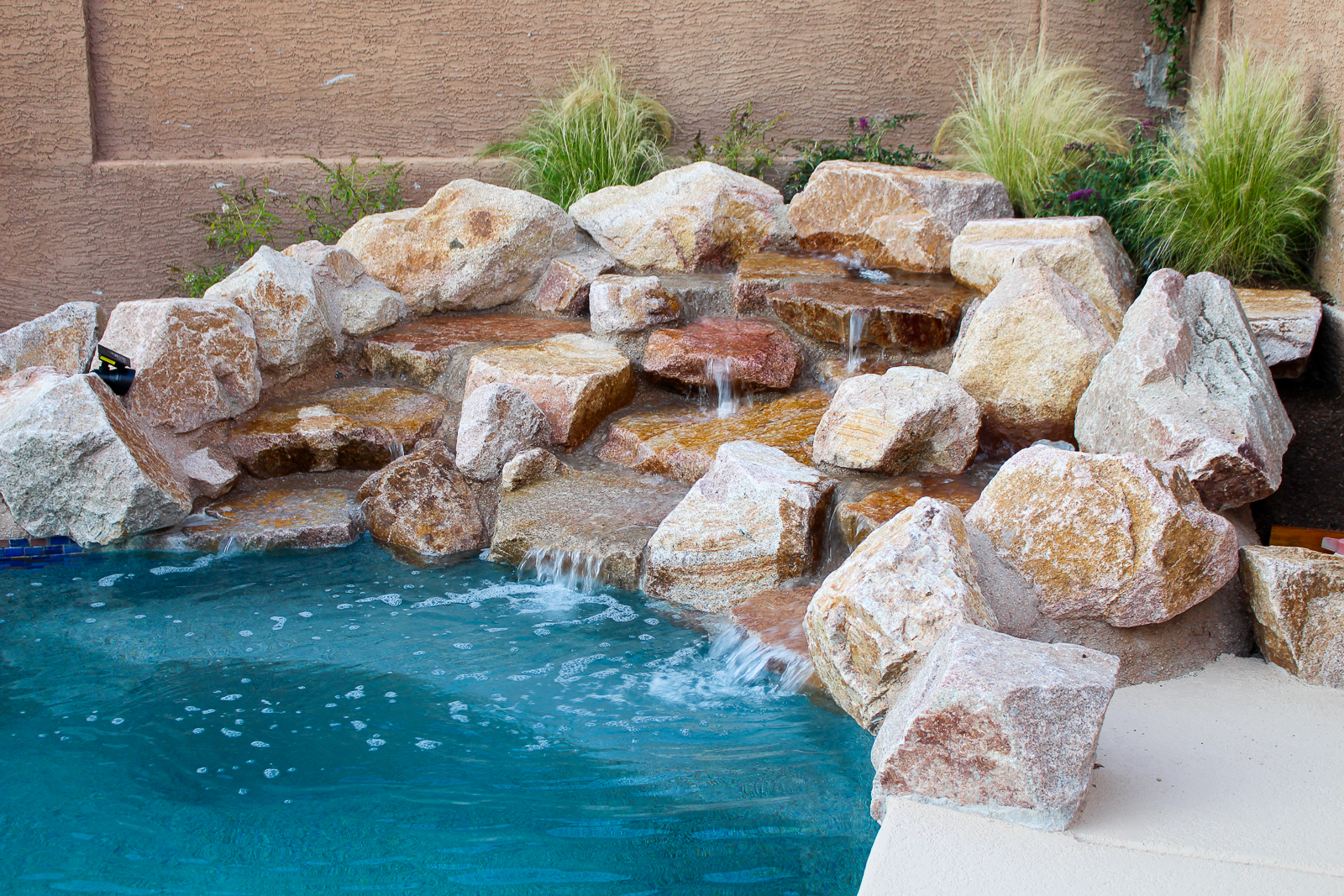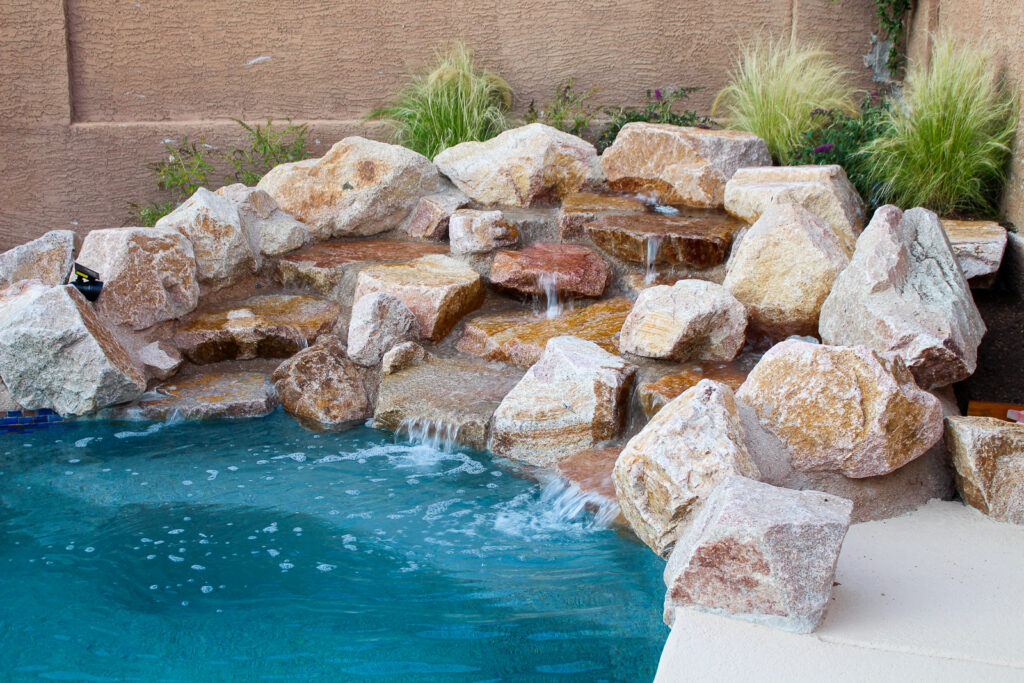 LED color-changing lights. You can use the app to pick different modes or a single color option.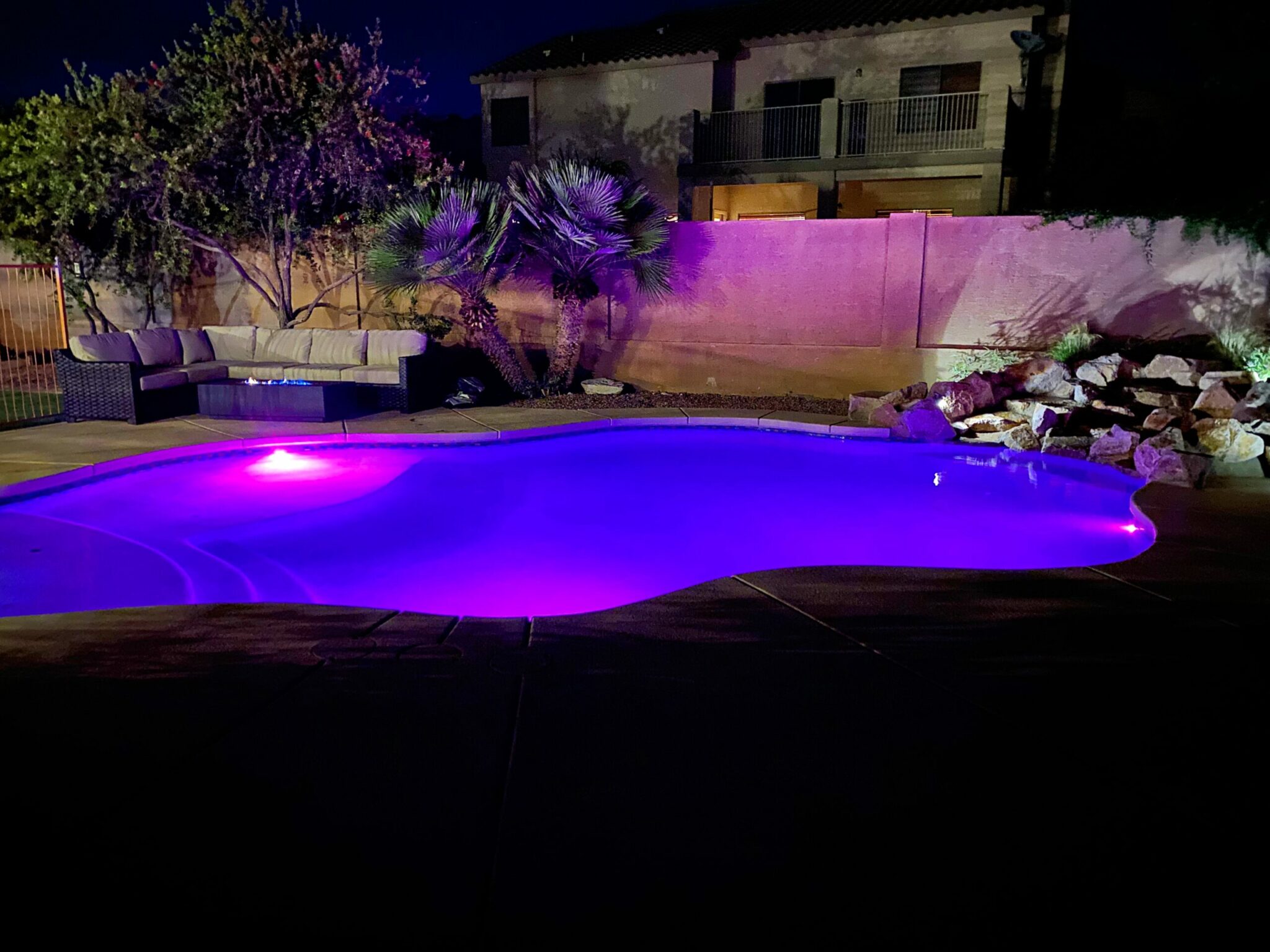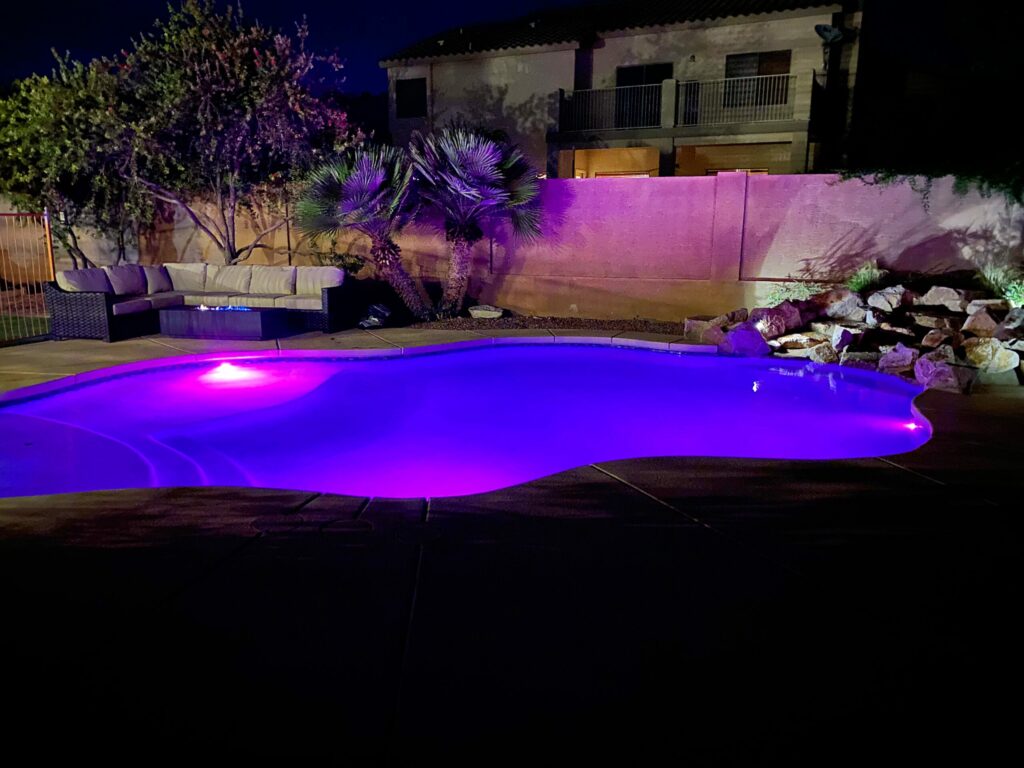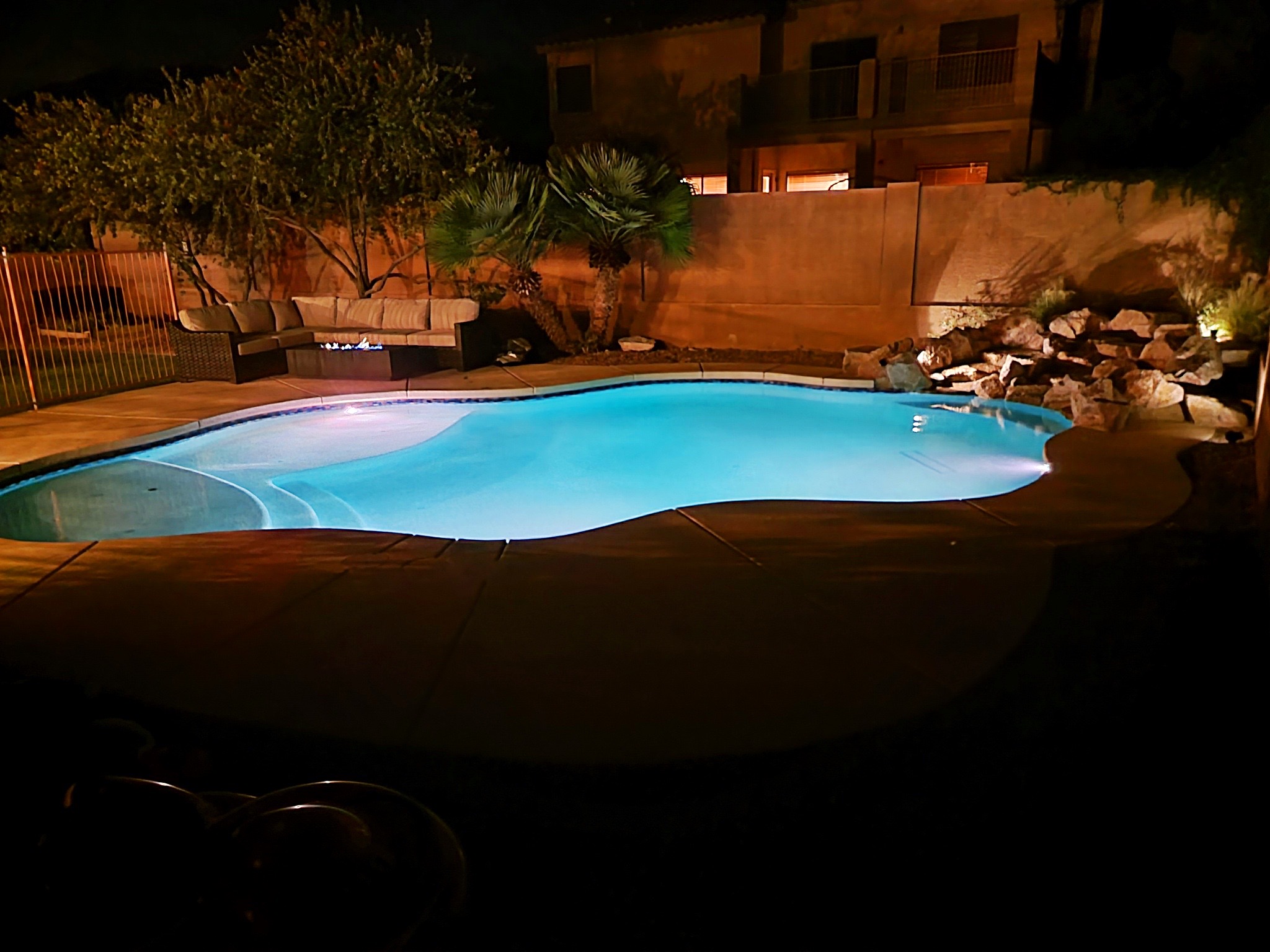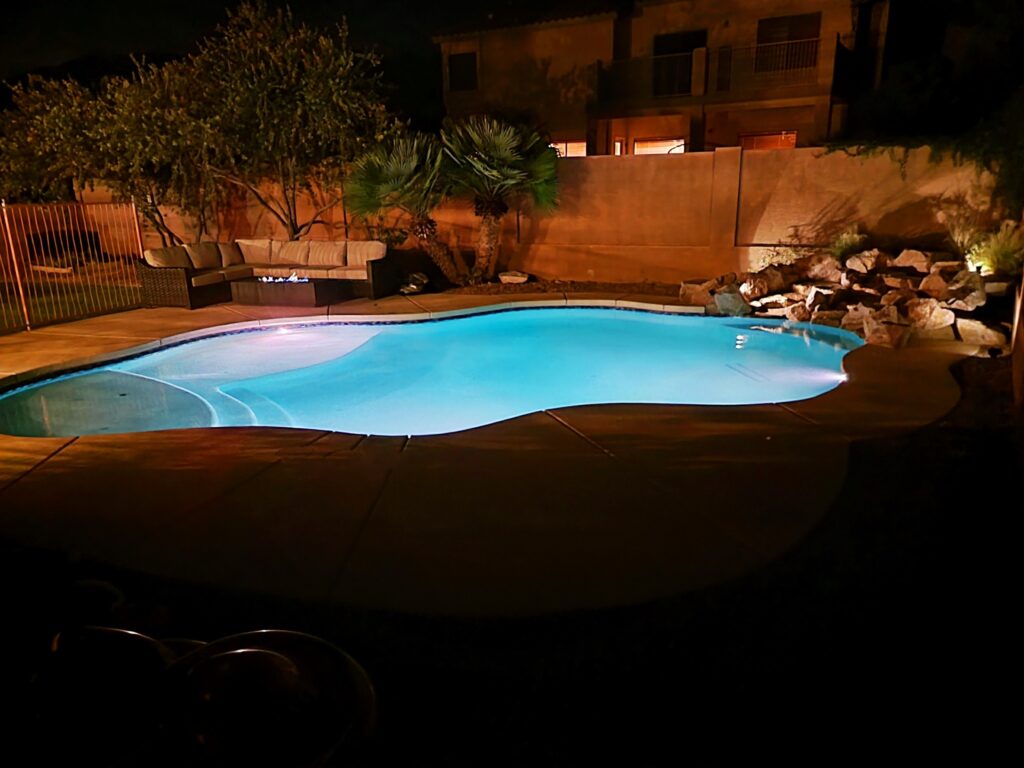 Tanning ledge with umbrella sleeve. The tanning ledge is about 6-8 inches – perfect for relaxing! It also has a bubbler and is the perfect little kid play area. Our friends' 3-year-old came over last weekend and had a blast in the tanning ledge area.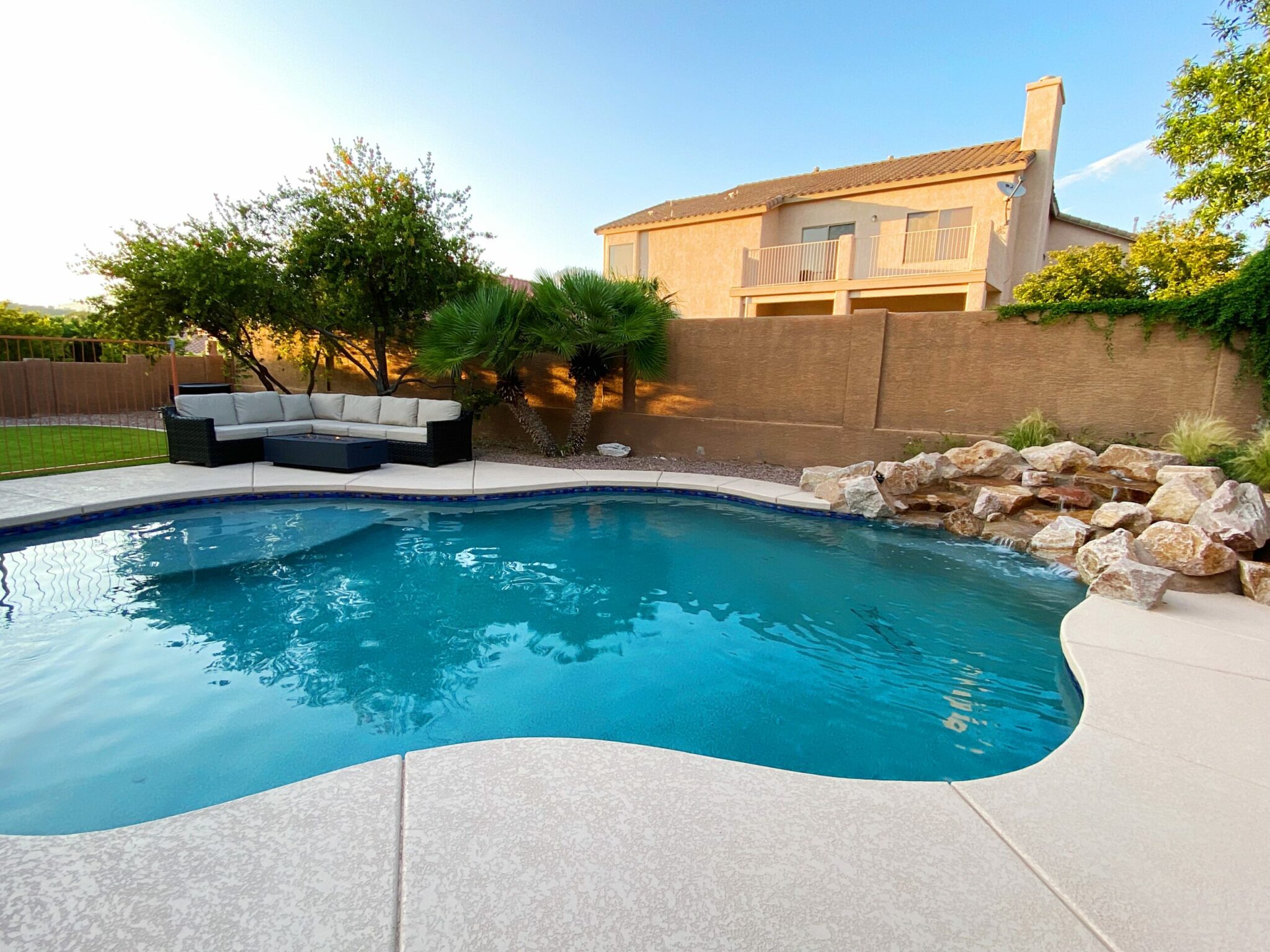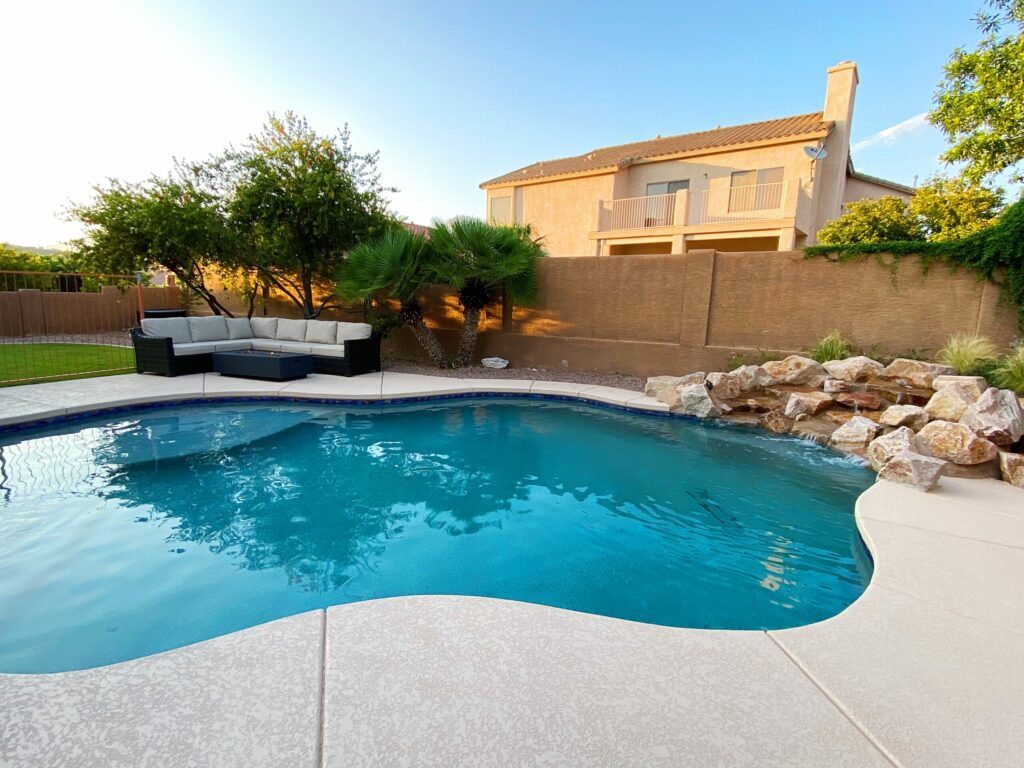 Ozone! We had the option to add ozone, which sanitizes the pool and decreases the need for so much chlorine.
Tips for building a custom pool and things that we learned:
– Expect to spend a lot, especially right now. Cost of supplies increased about 15% between the time we signed and the pool was constructed, and supply chain issues caused delays. There is a chlorine shortage right now, so if you're building, I would buy chlorine if you can find it, just to have some on hand.
– If you know you're going to go for it, get on a waiting list ASAP. A lot of companies are booked out for the next year, if not longer.
– When you pick a PebbleTec color, they have an app that shows you what each color looks like at different depths. It's also helpful to take the samples you like and put them in a bucket of water, and take them outside in the sun. They look WAY different when they're wet and in sunlight than indoors dry.
– When it's time to fill your pool (or if you have to drain your pool and refill it for any reason), use Orenda Technologies. You can check out their website here and find a provider near you. This is not sponsored in any way, but this is my #1 inside tip and has made a huge difference in our water quality.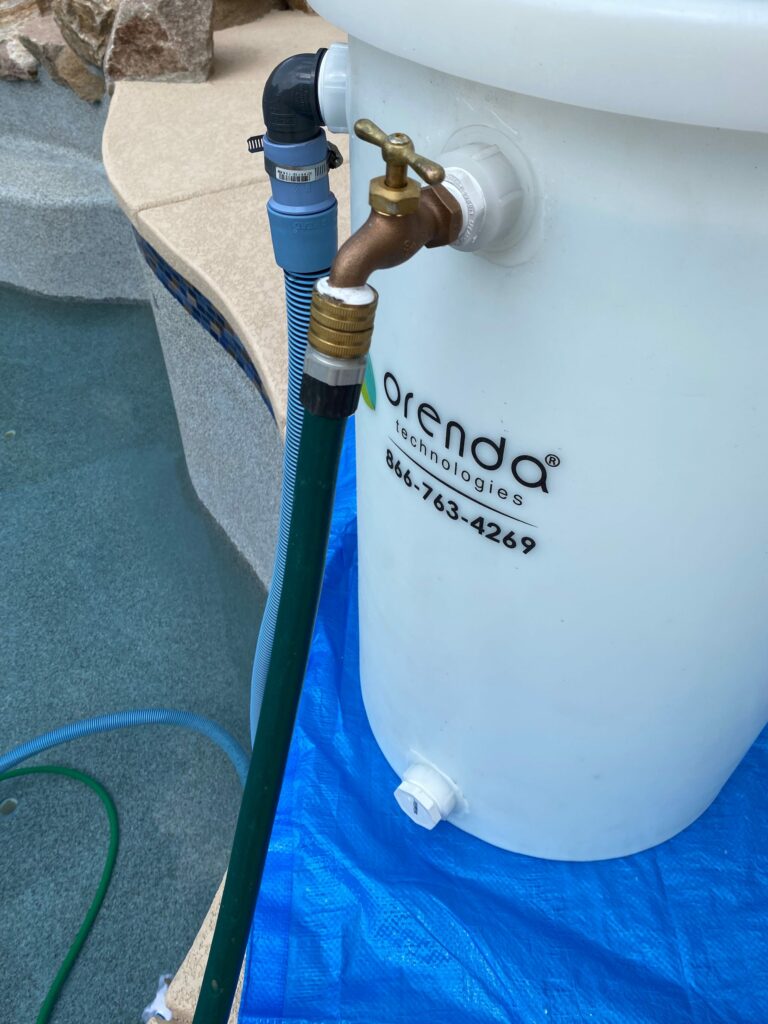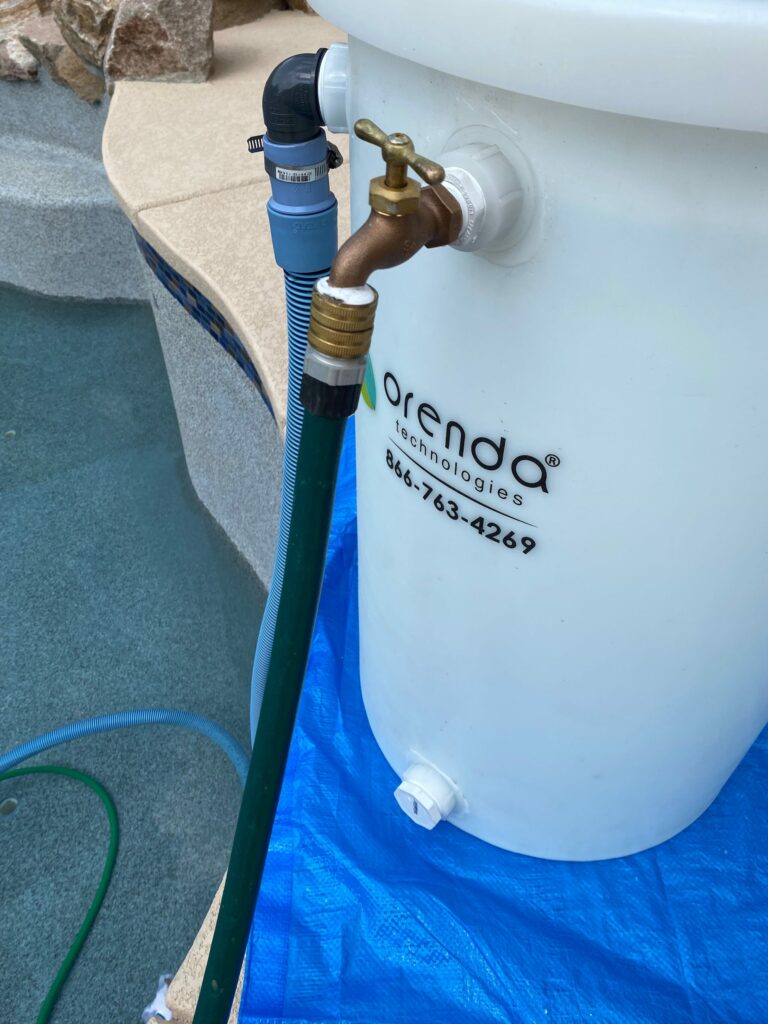 Here is my nutshell, non-scientific understanding of how the process works: 
When you go to fill your pool, water will seek equilibrium. This means if it needs any calcium, it will take it from the shell of your pool as it's curing, affecting the long-term surface quality of your Pebbletec or whatever surface you have. When you use an Orenda provider, they filter your hose through a bucket and test the water as it's filling the pool. They add whatever is needed in the process (different minerals and enzymes), so the water is already balanced and the shell of your pool can cure properly.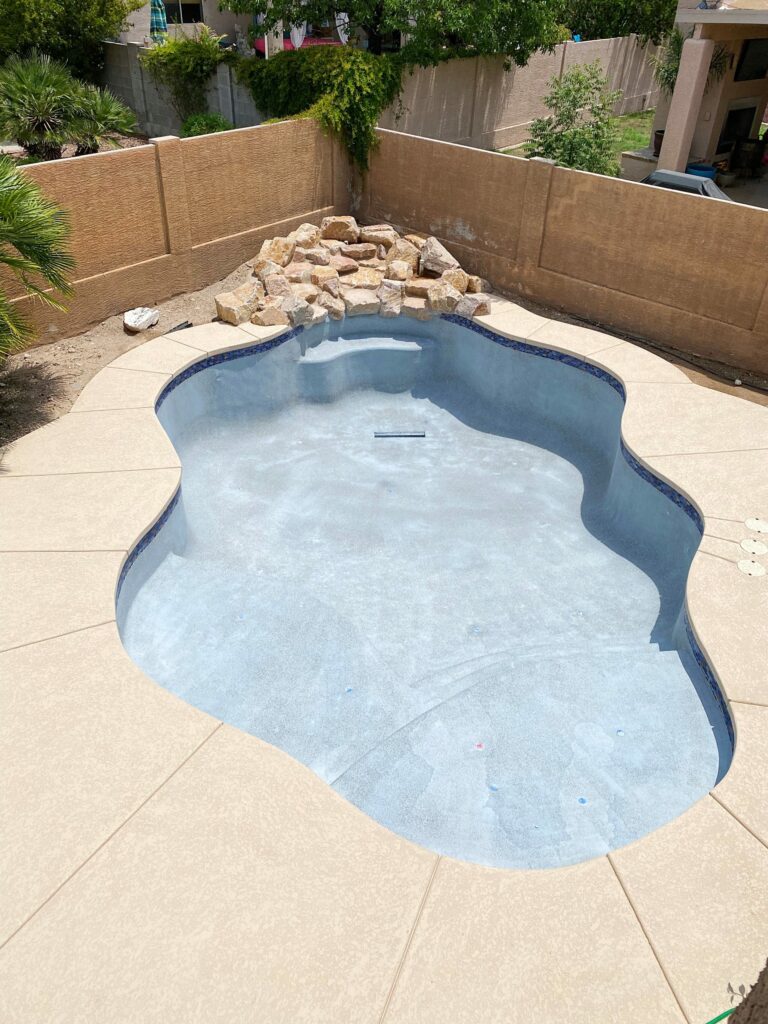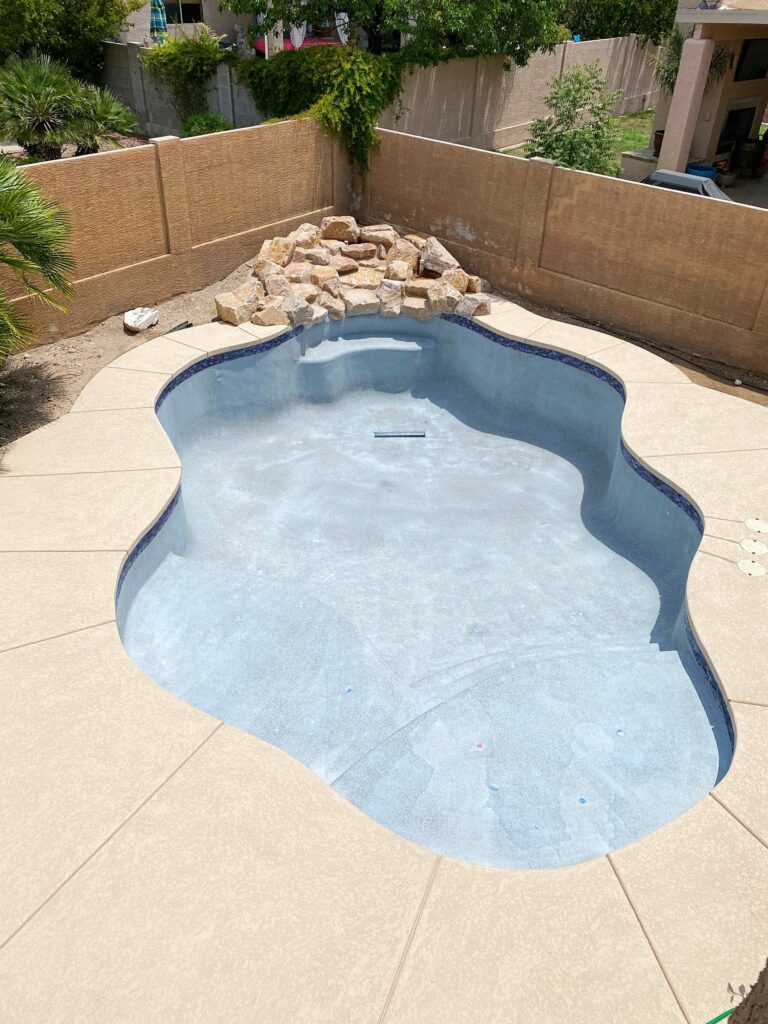 (We picked blue granite Pebble Sheen. You want to protect that shell as it cures!)
Kathryn has worked in the pool industry for 20 years and when she said we had to do this, I knew it was an important step! (Worth noting here that Kathryn has helped us SO much with her pool expertise and the construction and start-up process.) She tested the water multiple times, taught the Pilot how to do it, was here for the entire start-up, and also helped us choose all of the plants and landscaping for the water feature and our front yard… which was completely destroyed in this whole process haha. My stepdad and dad have helped us out immensely with various projects over the past few months, too.)
We also use Orenda products for the pool and their testing supplies. The Pilot tests the water 1-2 times a week and inputs the levels into the Orenda app on his phone. The app tells him exactly how much of each chemical and/or enzyme to use. (Pro tip from Kathryn: add the chemicals to a 5-gallon bucket filled with pool water and swish it around. Then pour everything into the pool as you walk around the perimeter. When you dump pure chemicals into the pool, it can leave lines on the surface over time.) Because we're doing it this way, we only use exactly what we need instead of guessing and adding excess ingredients. The water is crystal clear, has a bouncy feel to it, and isn't stinky. 😉 The pH levels are also consistently where they need to be.
You can check out more about Orenda here – they also have a video that explains what they're all about. The water feels so amazing and I love that the girls don't have bloodshot eyes or smell like chlorine, even after swimming for hours.
I also love that Pools by Design really maximized the use of our backyard and created a sizable pool, while maintaining a grassy area and our patio.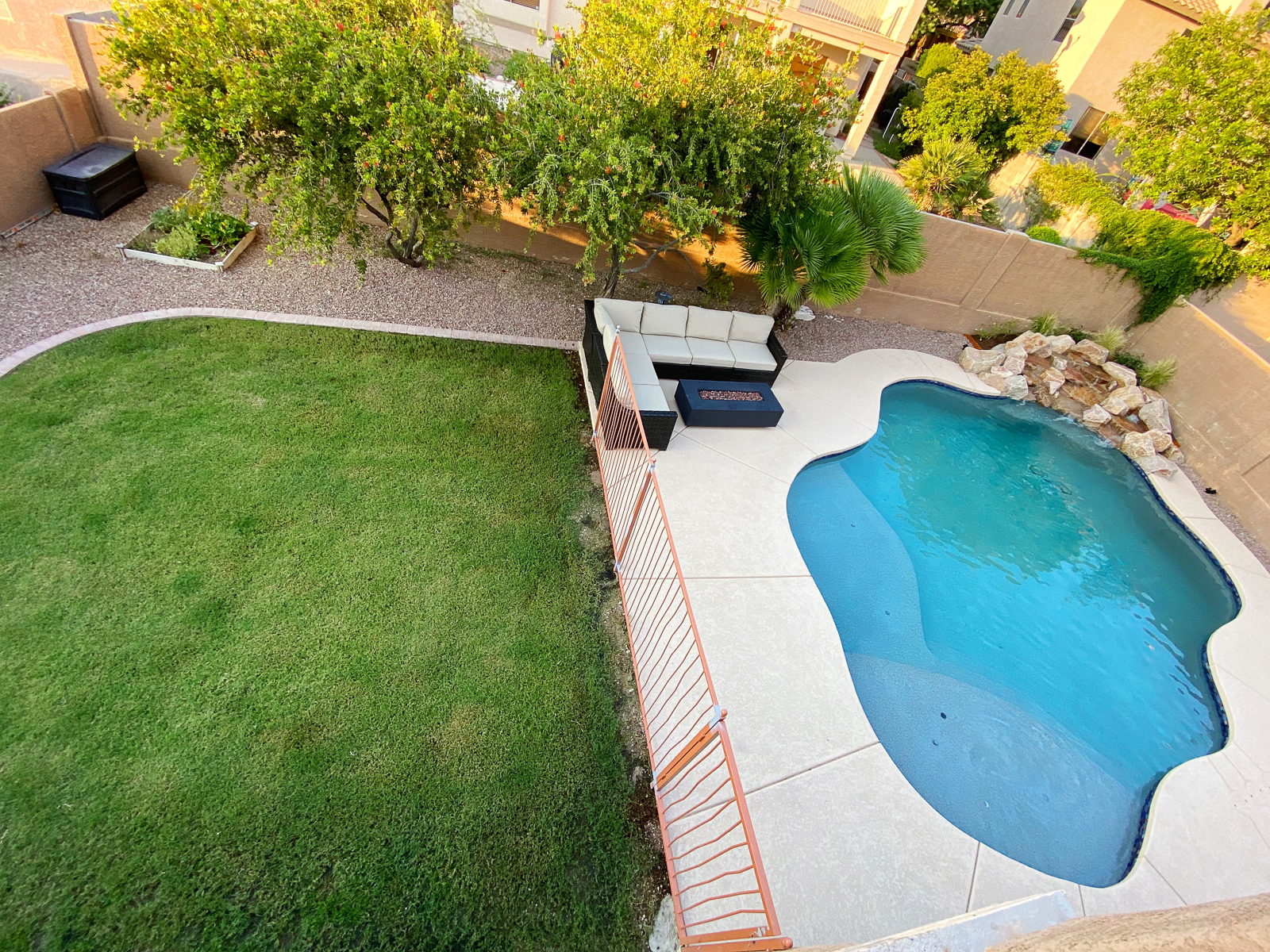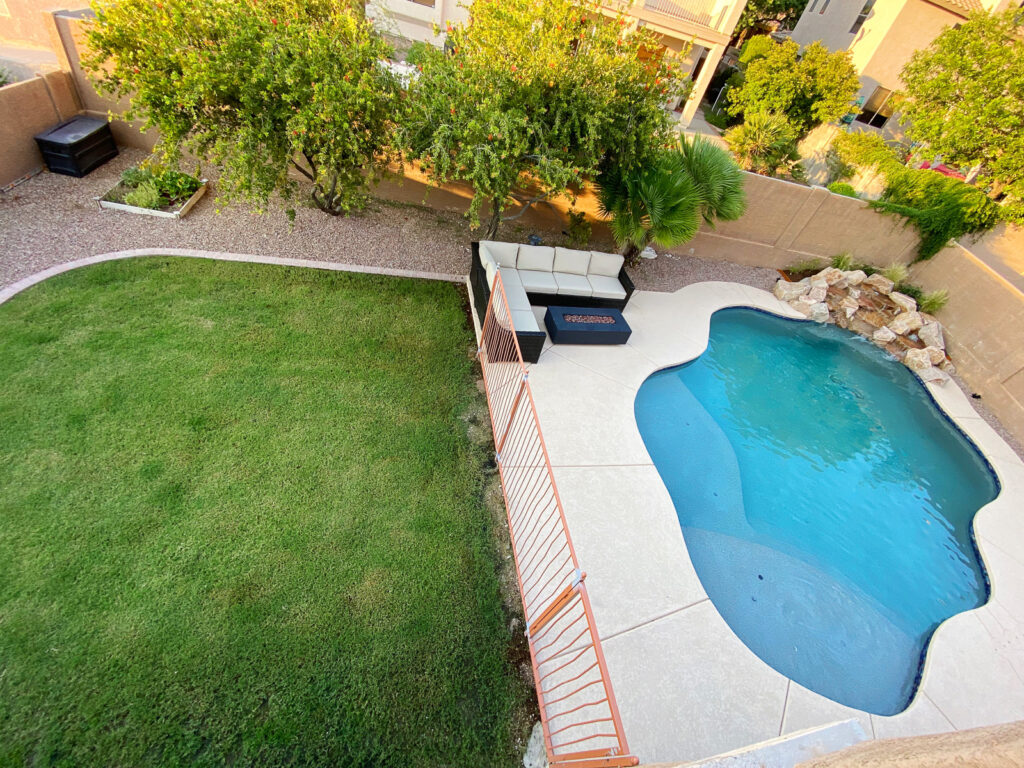 I'm happy it didn't end up taking up the entire backyard.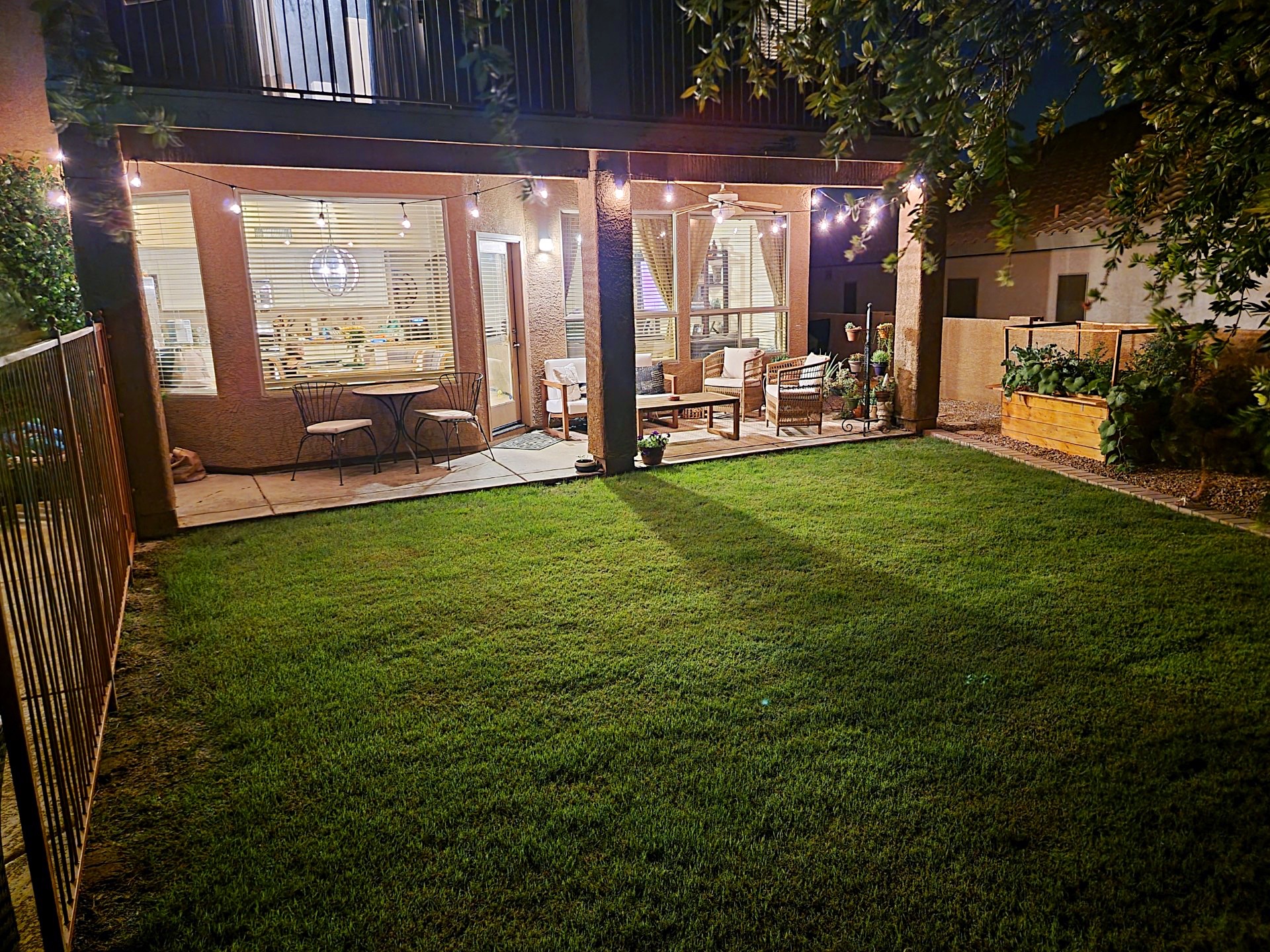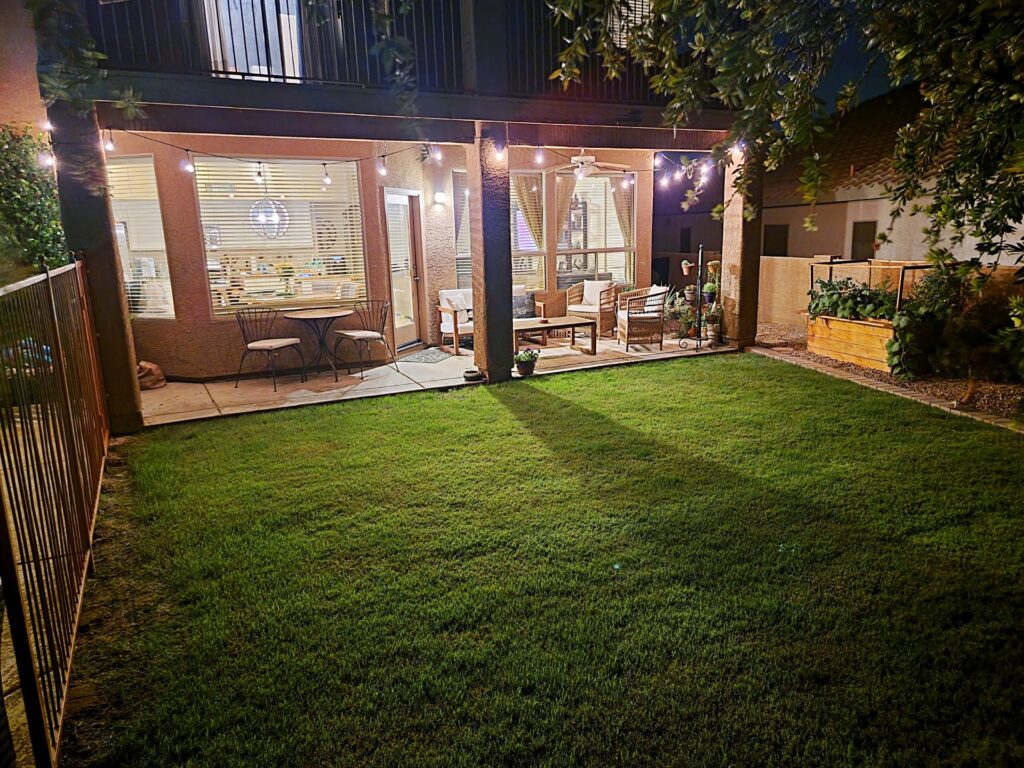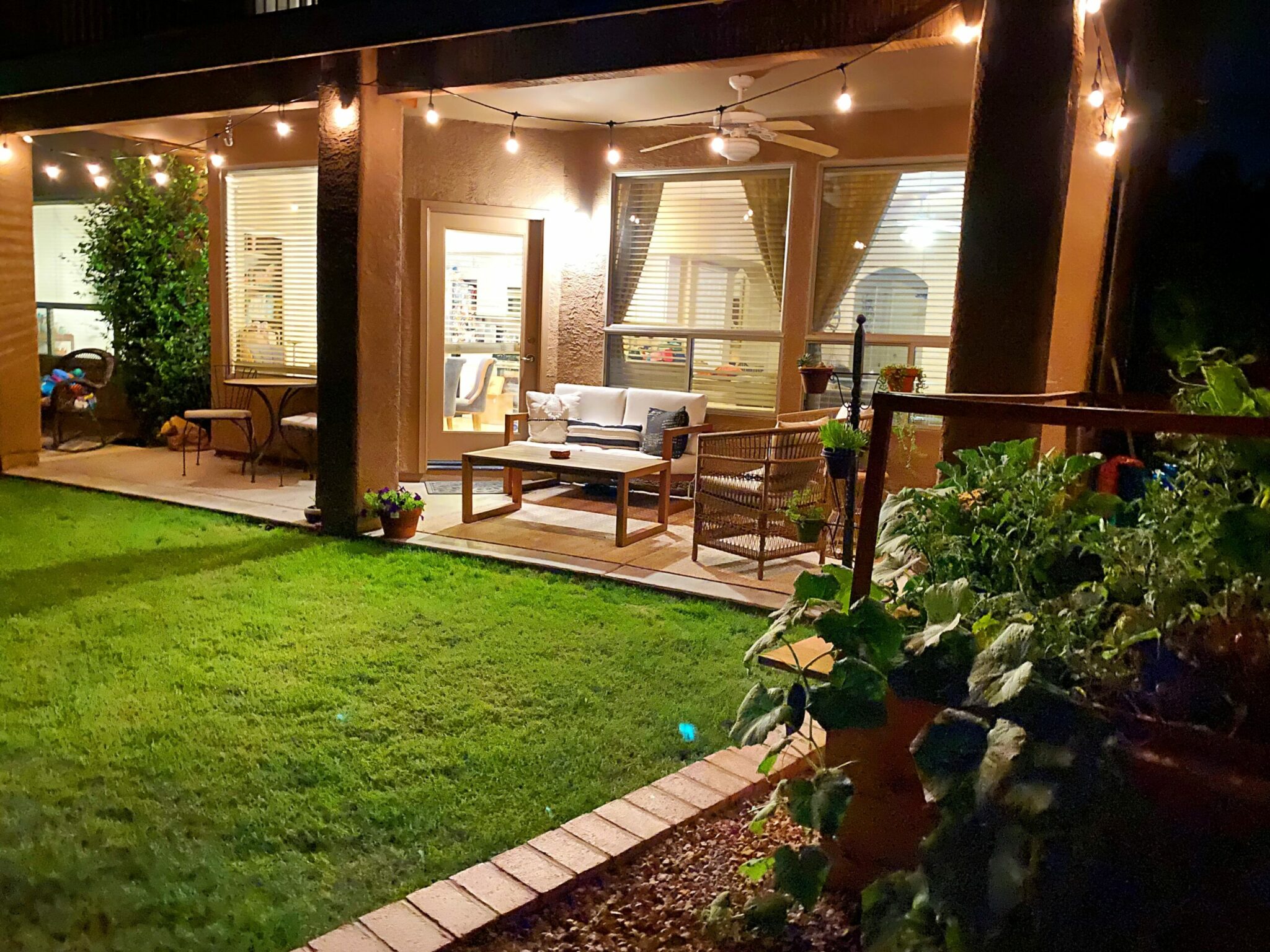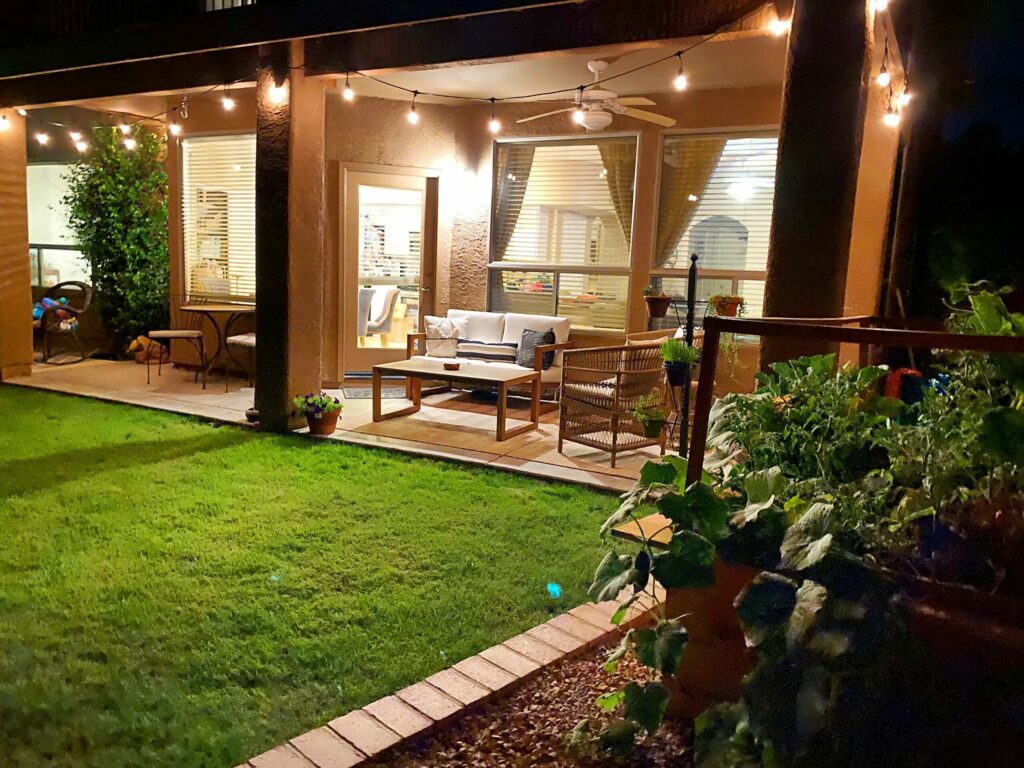 So there ya go! Lots of pool parties ahead at the Harney house. 🙂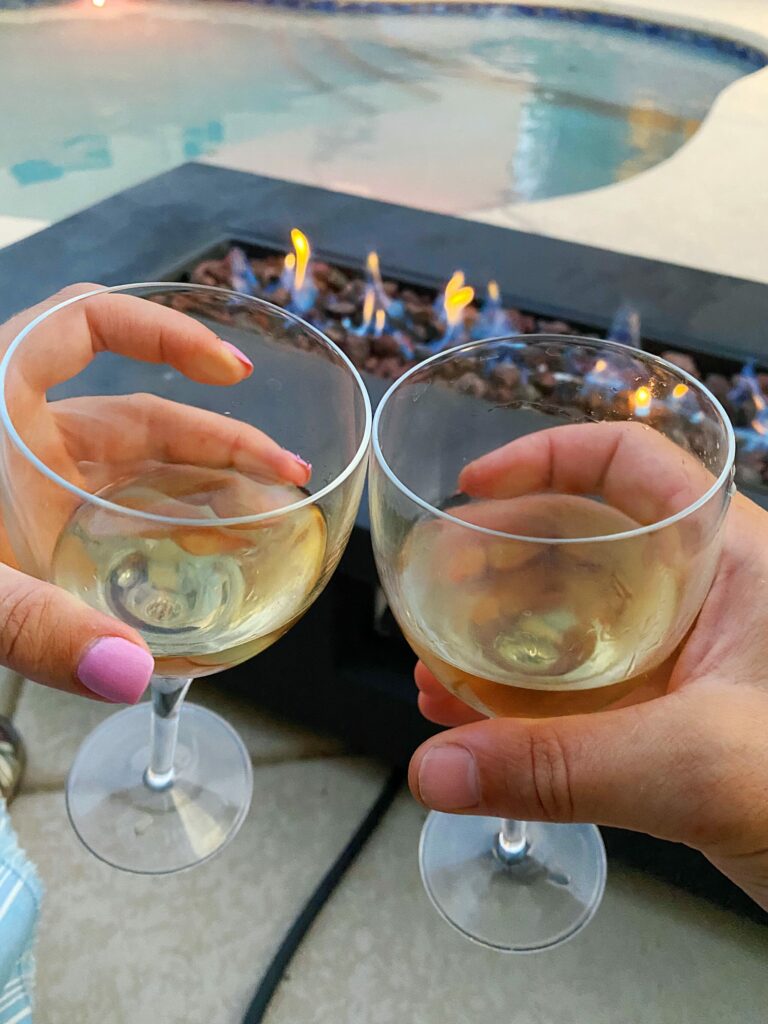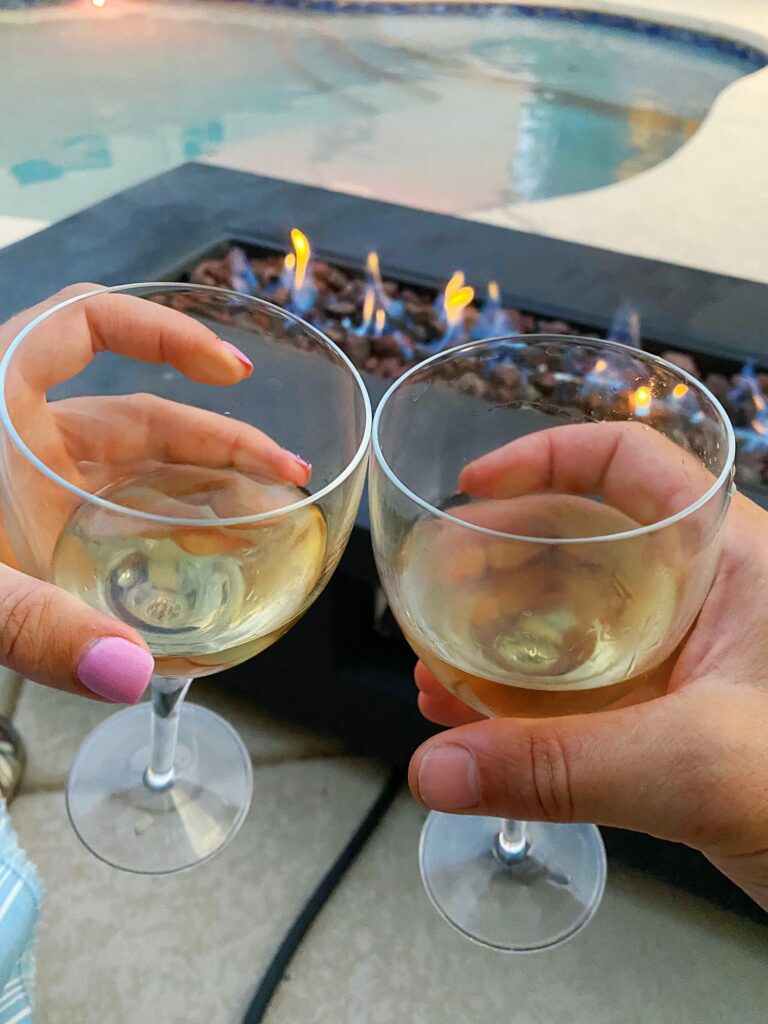 Do you have any home projects on the horizon? What's next on your home improvement list? I can't wait to rip out all of the upstairs carpet….
xo
Gina
Link to outdoor couch is here, fire pit is here
More:
[ad_2]

Source link